CLASS X RESULT
If you are not willing to learn, no one can help you. If you are DETERMINED to learn, no one can stop you.
With heads held high and heart filled with pride we are fortunate enough to stand among our newest breed of champions.
We shower our blessings to each one of them for the marvelous performance and hard work that has added to the prestigious legacy of DWPS, Pilkhuwa.
A special mention for Atharv Goel who secured 95% and Emy Varghese for 88% marks. Each and every student of DWPSP secured first division. We wish all a great future ahead with many such milestones in the reckoning.

CHESS CHAMPIONSHIP
Elated to share that the students of DWPS, Pilkhuwa Yash Tyagi (Class VI) and Arpit Goel (Class IV) brought laurels by bagging 2nd and 5th Position respectively in the Hapur Distric Chess Campionship-2019 organised by Chess Sports Association Distric Hapur in the Under-9 age group held on Saturday, April 27,2019 at Arwachin International School, Pilkhuwa.
Heartiest Congratulations to the winners!!

SWAR SAGAR FEDERATION OF PERFORMING ARTS
Hurray! DWPSP added yet another colourful and glorious feat with students making their alma proud by emerging as winners in the various competitions organised by Swar Sagar Federation of Performing Arts at Monad University on Wednesday, 24/04/19. The students had crooned with elegance throwing the audience into rapturous applause and the renowned members of the jury could not hold themselves in placing the students as well as the school on the top. They stood first in String, Keyboard, Band, singing and Poster making competitions.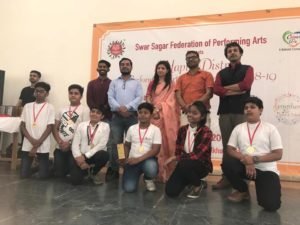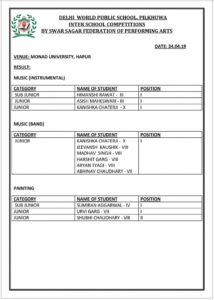 GURU-VANDAN CHATRA ABHINANDAN- 2018
On the occasion of Teachers' day, Bharat Vikas Parishad felicitated the students and teachers of the school in the programme named Guruvandan Chhatra Abhinandan in which meritorious students were given awards for excellence in academics and the Principal Mrs. Poonam Verma and four teachers, Mr. Sanjay Kumar, Ms. Deepali Shishodia, Ms. Alka Chitkara and Ms. Priyanka Sharma were honoured for their contribution in the field of education in the region.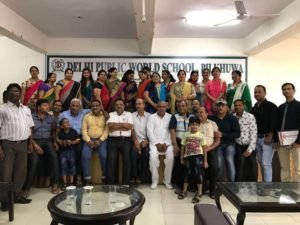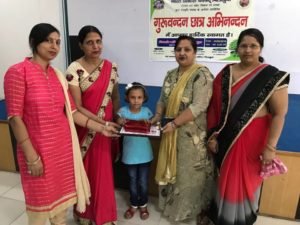 GROUP SONG COMPETITION
CONGRATULATIONS, ONCE AGAIN!!
The students of Delhi World Public School, Pilkhuwa this year once again came up with flying colours and bagged the FIRST POSITION in Inter School Group Song Competition organised by Bharat Vikas Parishad at RKG Engineering College, Pilkhuwa on 20 August 2018.
The students spellbound all the audience present in the seminar hall with thier outstanding and mesmarising performance and ensured the first place among all the competing teams. The winners were awarded a winning trophy and the team was selected to perform at district level competition.
Congratulations to all..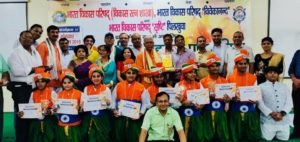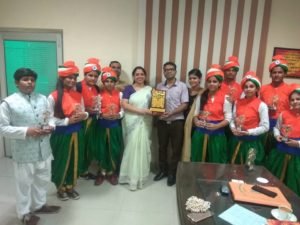 PRATIBHASTUTI 2018
Heartiest Congratulations to the students:
Our students ADITYA DWIVEDI & ANAMIKA MISHRA of Class PREP bagged the 1st position while showcasing their creativity and extraordinary skills in 'CRINCLE & CREASE ' category under Inter School Competition, 'PRATIBHASTUTI 2018' held at New Era School, Ghaziabad, on August 3, 2018. Heartiest Congratulations to the winners.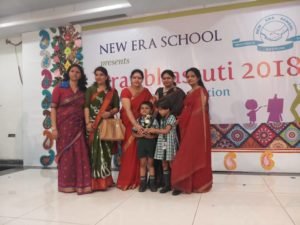 CRESCENDO
"Competition is the best way to accelerate learning".
Keeping in view the necessity to develop self-confidence and creative thinking in the minds of young learners, the students of DWPS Pilkhuwa pariticipated in the Inter-School Competition 'Crescendo' which was held at Sunderdeep World School, Ghaziabad on 21 July 2018 in which the ever diligent students of our school registered their notable presence and set new and higher standards of excellence. Garvit Agarwal and Akshita Gaur from class II won First position in Mocktail Making, Ansh Garud and Shaurya Pratap Singh from class III bagged Second Position in Paper Bag Making and in Pot Adornment students from Class VI, Femi Varghese, Aradhay Chaudhary and Urvi Garg grabbed the Second Position.
Next day, the winners were praised and appreciated by our honorable Principal Mam, Mrs. Poonam Verma in the morning school assembly where the winning certificates and medals were distributed to the winners.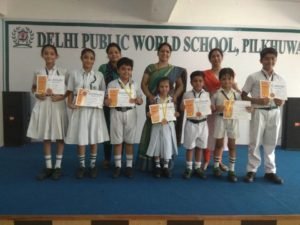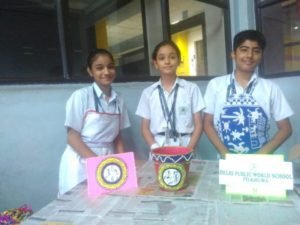 KARATE CHAMPIONSHIP
Delhi World Public School, Pilkhuwa added yet another feather in their illustrious cap with two budding students Shaurya Pratap Singh(Class-III) and Anjali Malik(Class- VI) making their Alma master proud as they held aloft glittering trophy in District level Karate Championship organized by Seiko Kai Karate International, Hapur. The competition was held at Delhi World Public School, Pilkhuwa on Sunday, 15th July'2018 under the supervision of Mr. Rohtash Singh , General Secretary, Seiko Kai Karate International, Hapur and our sports teacher Mr. Sanjay Kumar. Around 80 students from different schools participated in the competition and showed their Martial Art Skills. The prize distribution ceremony was graced by our respected Principal Mrs. Poonam Verma who gave away the prizes to all the winners and congratulated them.
                  
OPEN CHESS TOURNAMENT 2018 
Kudos to the Winners
✌
It is once again a proud moment for the school as our students, Daksh Agarwal (Class IV) and Shaurya Pratap Singh(Class III) brought laurels by bagging 1st and 2nd Position respectively in the Hapur District First Open Chess Tournament 2018 in the Under-9 age group held on April 22, 2018 at Delhi World Public School, Pilkhuwa. Both the students will now be representing the school at State Level Chess Tournament to be held on 31 May 2018 at DDPS Ghaziabad.
All the very best to both the children!!